Merit Badges are awarded to Scouts for fulfilling requirements in specific fields of interest. There are more than 130 Merit Badges that scouts can earn, in subject areas that include careers, sports, hobbies, and Scouting skills.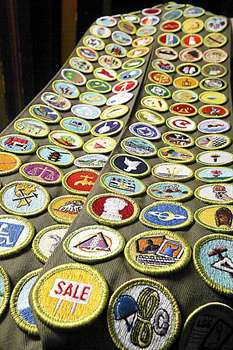 Merit Badges can help a Scout discover abilities he didn't know he had, and fields of interest he's barely heard of. These badges can guide a Scout toward a career, enrich his leisure life, hone his fitness, enhance his ability to help others, and stimulate his personal growth.
A Scout earns a merit badge by working with an adult counselor, an expert in the chosen subject, who is on a list provided and approved by the troop, council, and district. The Scout, along with a buddy, makes an appointment with the counselor, and works on the merit badge under the guidance of the counselor during one or more visits.
A scout need to earn at least 21 merit badges including the following 13 Eagle required merit badges:
a. First Aid
b. Citizenship in the Community
c. Citizenship in the Nation
d. Citizenship in the World
e. Communication
f. Cooking
g. Personal Fitness
h. Emergency Preparedness OR Lifesaving*
i. Environmental Science OR Sustainability*
j. Personal Management
k. Swimming OR Hiking OR Cycling*
l. Camping
m. Family Life
* You must choose only one merit badge listed in items h, i, and k. If you have earned more than one of the badges listed in items h, i, and/or k, choose one and list the remaining badges to make your total of 21.
---
TO BEGIN A MERIT BADGE:
When a scout decides he would like to earn a specific merit badge, he obtains approval to begin the merit badge from his Scoutmaster to open a "blue card". The blue card is used to officially track starting and completing a merit badge. The scout should then contact the Troop ASM to find a merit badge counselor.
To fill out your blue card:
1. Scout finds merit badge counselor from counselor list.
2. Scout gets a blue card and fills in information in black (front and back).
3. Get Scoutmaster's signature. Scout contacts merit badge counselor.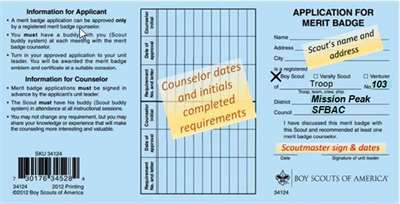 The scout identifies another scout that will be his partner to attend meetings with the counselor to follow safe scouting guidelines. He then contacts the counselor to begin badge work. The counselor reviews the requirements with the scouts and they decide on projects to complete and a completion schedule. The counselor provides expertise, advice, guidance as needed until the scouts have completed the requirements.
Scouts can also take part in Extravaganza events sponsored by a troop, district or the council. Extravaganza are typically one day events that offer a number of merit badges for scouts to start new or complete ongoing works. See the Troop 103 calendar for upcoming merit badge extravaganza events.
WHEN THE MERIT BADGE IS COMPLETED:
The merit badge counselor certifies completion of requirements and the merit badge patch is presented at a Court of Honor.

1. Counselor signs and dates in 3 places.
2. Counselor keeps the 3rd part for their records.
3. Scout get Scoutmaster's signature for 2nd part and gives the 1st and 2nd part to the Advancement Coordinator.
4. Scout get 2nd part for their records after COH.